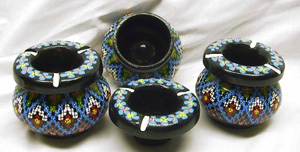 These ashtrays were hand-crafted in Morocco. As you can see from the photo, the ashtrays are very unique in the way you can use them. Place your cigarette on top, then as ashes build up, just lift the top and the ashes and butts easily fall to the bottom of the ashtray. No more getting up constantly from your chair to empty that ashtray.
Just empty it when the base gets full and that can take quite a while. You do not have to snuff out that cigarette either. Just lift the top and let the lit butt fall to the bottom. When you replace the top, the oxygen is cut off and the cigarette goes out.

Look at the beautiful ashtray you continue to use without getting that awful build-up of black tar and ashes to clean out. What a great idea! The ashtrays are 3" to 4" tall with a 3" to 4" base. The patterns and colors vary.

$22.50
There are many different styles
with different patterns and detailing.
Email for availability.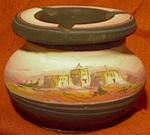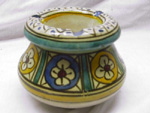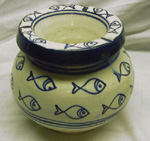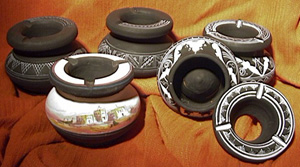 ---

Click to subscribe to The United Pro Choice Smokers Rights Newsletter. Only one email a week.
---
Home | Gifts | Cigarettes | Cigars | Tobacco | Freedom Pipe | Specials | Newsletter | Links | Our Chat Room | Members Write | Lighthearted |
---