CONTENTS

1. Suspect, Nightclub Sued in Death of Bouncer
2. Second-Hand Smoke Dispute
3. In A Huff, U.N. Staffers Still Puff
4. Three Wise Guys
5. Study Finds Heart Disease Top Bad-air Consequence
6. Trial Lawyers Question Jurors' 'Strong Religious Beliefs'
7. Free State Project
8. We Are Everyday People
9. From The Mailbag


Women and cats will do as they please, and men and dogs should relax and get used to the idea.
Robert A. Heinlein



Attention all business owners suffering from a smoking ban. Please fill out this form To be added to The Facts.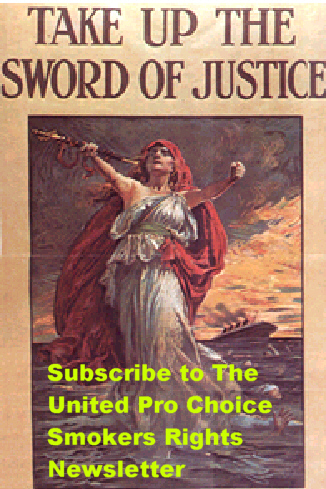 Select Your State For More Information:
AL | AK | AR | AZ | CA | CO | CT | DE | FL | GA | HI | ID | IL | IN | IA | KS | KY | LA | ME | MD | MA | MI | MN | MS | MO | MT | NE | NV | NH | NJ | NM | NY | NC | ND | OH | OK | OR | PA | RI | SC | SD | TN | TX | UT | VT | VA | WA | WV | WI | WY
-------------
Voters for Fairness and Freedom
Sign a petition.
-------------
Action Alert
-------------
Smoking Studies List
-------------
Please send your news items to: info@smokersclub.com
-------------
Read this newsletter on a web page
-------------
Index of Articles
-------------
Clove cigarettes, FREE International delivery!
-------------
Cigarettes, USA delivery,
No tax or reporting.
-------------
The BEST ashtray ever.
Get one for your car as well!
-------------
The Freedom Smoking Pipe
-------------
Get your cigar quotes here, support the newsletter.
-------------
Read
Joe Bob Briggs
Joe Bommarito
Joe Dawson
Kerry Diotte
Cat Farmer
Wanda Hamilton
Dave Hitt
Norman Kjono
Warren Klass
James Leavey
Pierre Lemieux
Enoch Ludlow
John Luik
Rosalind Marimont
Michael McFadden
Steven Milloy
Martha Perske
Jacob Sullum
Walter Williams
Tobacco News From Canada
-------------
2nd Hand Smoke Is Harmless!
Smoking Studies List
-------------
Register on MySmokersRights.com and you'll have access to your own personalized page, with contact information for your state and federal representatives. And RJR will keep you informed of issues affecting smokers in your area by way of e-mail.
-------------
Comedy
© Copyright 2003. All rights reserved.
Suspect, Nightclub Sued in Death of Bouncer:
The brother of a nightclub bouncer who was stabbed to death in April while trying to enforce the city's smoking ban has filed a $550 million lawsuit against the people with whom the victim fought and the club where the slaying occurred.
---
Second-Hand Smoke Dispute:
Some folks in Stanton, Delaware are burning up over a neighbor whose cigarettes fill their homes with second-hand smoke. Both sides have valid points and it's a classic line-in-the-sand standoff.
---
In A Huff, U.N. Staffers Still Puff:
By Jennifer Gould Keil. Staff and diplomats at the United Nations are flouting their own secretary-general's health directive to quit smoking and abide by the rules of the U.N.'s own World Health Organization - not to mention the local laws of New York City.
---
Three Wise Guys:
By Catfarmer. From now on, I promise to behave like an upstanding, government-fearing American…
---
Study Finds Heart Disease Top Bad-air Consequence:
Air pollution in U.S. cities causes twice as many deaths from heart disease as it does from lung cancer and other respiratory ailments, a new study suggests.
---
Trial Lawyers Question Jurors' 'Strong Religious Beliefs':
By Jeff Johnson. Wenner agreed that jurors should not be excluded merely for their religion. But he still contends that there are some potential jurors who will not or cannot work within the system.
---
Free State Project:
The Year in Perspective. New Hampshire has been chosen as the Free State, and we had an amazing boom of publicity and new signups.
---
We Are Everyday People:
Ten a day OK, smokers told: By Tracy McVeigh. Outcry over doctor's claim that poor diet is the real killer.
Outlaw Radio: Mr. Cigar. The cigar radio network.
Zero Tolerance: Henry expels girl who brought pills to school. By S.A. Reid. Other students say incident was cry for help.
Home Movie Memories: Turn your old 8 and 16mm home movie films to VHS and DVD.

---
From The Mailbag:
CA: A Costa Mesa group wants cigarette butts off public beaches, piers and parks and is asking Orange County city councils to ban smoking in public areas.
CO: Restaurateurs suggest liberal smoking bans. By Christine McManus. SUMMIT COUNTY - The Summit County and Breckenridge restaurant associations have recommended that the county consider smoking bans in Grand Junction and Broomfield before crafting a law for Summit County.
CO: Secondhand smoke dangers a 'sham,' say Greeley bar owners. Greeley's new voter-approved ban on smoking in bars and restaurants should be overturned because it violates constitutional guarantees of free assembly and is based on faulty science, the owners of the Cactus Canyon bar said in a lawsuit filed last week. The suit, filed in U.S. District Court in Denver by Texas-based Greeley Club Venture Ltd., said the ban violates the First Amendment by preventing smokers from gathering in places where they would have otherwise gone.
DC: Ban the Ban is a bi-partisan, grassroots group of DC residents opposed to the proposed smoking ban.
FL: Nelson looks into tobacco revenues. Congressman urges federal hearing on state spending
GA: Activists burn over smoke ban. DeKalb County neighborhood activists blew smoke at the county's no smoking ordinance. Police escorted the protestors from the building.
IN: Indianapolis. A quick vote Monday night officially doomed a city-county council proposal to restrict smoking in Indianapolis. Any action by the council would have affected establishments in Washington Township. By a vote of 15-13, the council rejected a plea by Republican Beulah Coughenour to have a full debate on a plan to prohibit smoking in restaurants and many other workplaces. The vote came as the council wrapped up its current four-year session, and as many members wrapped up their careers.
MN: Duluth's smoking ban will change after all. City councillors voted 6-3 to override the mayor's veto and loosen the city's smoking ban.
MS: Your choice to light up. By Sallie Anne Gresham. It's your choice. The home is yours, the car is yours, the business is yours. But I can't make that choice for you. And government shouldn't be able to either.
NE: Smoking ban approved -- sort of. By Nate Jenkins. Bars -- defined as businesses where less than 60 percent of total sales are food -- will continue to be havens for smokers under the ordinance approved.
NE: Mayor vetoes `unfair' smoking ban. By Nate Jenkins. Saying it is flawed and unfair, Mayor Coleen Seng squashed the city's new smoking ban Thursday and thinks she has enough City Council support to make her veto stick. "It's unfair, it's difficult to enforce and it's difficult to defend," Seng said during a news conference.
NJ: Mount Laurel. Neighbor Sued for Smoking A condominium owner in Mount Laurel has sued his downstairs neighbor and the complex's homeowners association, claiming the man's cigarette smoke has damaged his unit.
NY: Celoron bingo is granted smoking waiver. Smoking will be allowed in all-volunteer membership organizations, according to new guidelines from the state that exempt some clubs from being governed by the Clean Indoor Air Act that prohibits tobacco smoking in public places.
RI: Smoking ban bill may be re-introduced. Despite a bill calling for a statewide smoking ban in certain public places fizzling out in the House earlier this year, a commission is currently studying whether the state is ready for another try, and is scheduled to present new legislation in January.
TX: San Antonio. Restaurants Making Smoking Decisions. The smoking law compromise, which satisfied neither anti smoking advocates nor businesses, was passed in August and calls for any restaurant which allows smoking to have a fully enclosed smoking room, with it's own ventilation system. Warnings about the dangers of smoking must also be posted.
WA: Pierce County's new smoking ban being pushed for all of Washington. But legislative leaders have stymied efforts to ban smoking.
WA: Seattle. The American Lung Association wants the Washington State Legislature to ban smoking in all public indoor places, including bars, restaurants and bowling alleys.
NZ: Changes to the smokefree law in 2003.
UK: Liverpool rejects smoking ban call. By Clare Usher. The main reason that people did not want a ban were fears that it would damage local business.
USA: Freedom News.
USA: Senate Passes Bill Banning U.S. Mail Cigarette Shipments. Though similar legislation has not yet passed the House, Seneca merchants in New York State are concerned enough about the Senate's action that they're considering writing a letter to President Bush to complain.