CONTENTS

1. The Making of ETS
2. UK Medical Journal Calls For Total Ban On Smoking
3. NZ: Parliament Passes Law
4. At The Service Of The Pharmaceutical Industry
5. EU Missing Chance To Cut Smoking
6. Smoking Ban Infringes
7. Addiction Inflation
8. We Are Everyday People
9. From The Mailbag


"An honest man can feel no pleasure in the exercise of power over his fellow citizens.
Thomas Jefferson, 1813



Attention all business owners suffering from a smoking ban. Please fill out this form To be added to The Facts.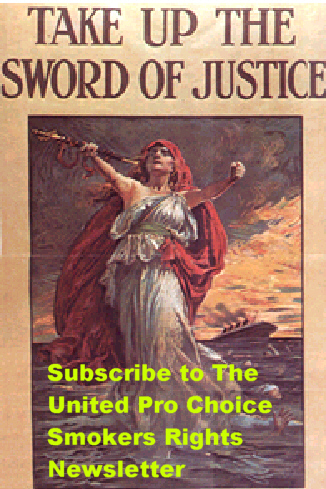 Select Your State For More Information:
AL | AK | AR | AZ | CA | CO | CT | DE | FL | GA | HI | ID | IL | IN | IA | KS | KY | LA | ME | MD | MA | MI | MN | MS | MO | MT | NE | NV | NH | NJ | NM | NY | NC | ND | OH | OK | OR | PA | RI | SC | SD | TN | TX | UT | VT | VA | WA | WV | WI | WY
-------------
Voters for Fairness and Freedom
Sign a petition.
-------------
Action Alert
-------------
Smoking Studies List
-------------
Please send your news items to: info@smokersclub.com
-------------
Read this newsletter on a web page
-------------
Index of Articles
-------------
Clove cigarettes, FREE International delivery!
-------------
Cigarettes, USA delivery,
No tax or reporting.
-------------
The BEST ashtray ever.
Get one for your car as well!
-------------
The Freedom Smoking Pipe
-------------
Get your cigar quotes here, support the newsletter.
-------------
Read
Joe Bob Briggs
Joe Bommarito
Joe Dawson
Kerry Diotte
Cat Farmer
Wanda Hamilton
Dave Hitt
Norman Kjono
Warren Klass
James Leavey
Pierre Lemieux
Enoch Ludlow
John Luik
Rosalind Marimont
Michael McFadden
Steven Milloy
Martha Perske
Jacob Sullum
Walter Williams
Tobacco News From Canada
-------------
2nd Hand Smoke Is Harmless!
Smoking Studies List
-------------
Register on MySmokersRights.com and you'll have access to your own personalized page, with contact information for your state and federal representatives. And RJR will keep you informed of issues affecting smokers in your area by way of e-mail.
-------------
Comedy
© Copyright 2003. All rights reserved.
The Making of ETS:
Lying about passive smoking. By Henry R. Sturman. A large defect in this study is that the authors did not look at affiliation with anti-smoking organizations, government agencies biased against smoking and the pharmaceutical industry (which is largely anti-smoking because they hope to sell medication to help people quit smoking).
---
UK Medical Journal Calls For Total Ban On Smoking:
By Mike Wendling. The Lancet has done us a favor," said FOREST director Simon Clark. "We now know exactly where we stand. Not only does the health lobby want to prohibit smoking in public places, they want to ban tobacco and make smoking a criminal offence. There speaks the true voice of the rabid anti-smoking zealot."
FOREST welcomes public rejection of blanket ban on smoking in public places.
MPs challenge supermarkets on obesity:
By Claire Cozens. The Food Standards Agency predicts obesity will cost the nation £3.6bn a year by 2010.
---
NZ: Parliament Passes Law:
Banning smoking in pubs and clubs. Others who voted against it mocked the bill as an unenforceable politically correct law that would be laughed at in pubs and clubs around New Zealand.
Smokefree bill passed to cheers - and fears:
"It's the bar owners and the clubs that fold that will carry the can of this legislation."
Smoking law change draws mixed reaction from pubs:
Bar and restaurant managers voiced mixed feelings over the bill banning smoking in bars, clubs, restaurants and casinos shortly before it became law.
---
At The Service Of The Pharmaceutical Industry:
Virtually omnipotent, omnipresent, pulling the strings of governments, institutions, international public health organizations, medical information, medical associations, scientific studies, many universities and scientific journals; influencing media all over the world, while attempting to reshape the economies and the culture of entire nations; antitobacco is just one of their industrial efforts.
---
EU Missing Chance To Cut Smoking:
The European Union has been urged to revamp its current partial ban on the sale of smokeless tobacco products.
Smokeless Tobacco Information.
---
Smoking Ban Infringes:
on our private property rights. By Ethan Billings. When is it time to stand up for your rights? When is enough going to be enough? Well, if you're a smoker or someone who believes in the basic rights of private property owners, then now is the time.
---
Addiction Inflation:
By Roger Bate. Addiction inflation allows people to worry about being overweight, whilst blaming other people for their obesity. While it may be ok to be overweight, it's not ok to blame everyone else if you're concerned about it.
---
We Are Everyday People:
70 years - have we forgotten?: By Bob Smith. The idea was that government would simply FORCE people to be good.
Back Door to Prohibition: The New War on Social Drinking. By Radley Balko. Policymakers should be wary of attempts to restrict choice when it comes to alcohol.
Stand Up: It seems that it is about time (or actually way past time) to stand up and act like well informed adult citizens instead of brainwashed TV addicts and government pawns.
Estimating RFID's Pace of Adoption. By Jonathan Collins. After talking with retailers, manufacturers and technology providers, Insight Research reports on RFID's perceived issues and expected milestones.
---
From The Mailbag:
AK: Bar owners, anti-smoking advocates debate ordinance. By Tara Sidor. Stand-alone bars, some bar/restaurants now are exempt
DC: Ban the Ban. By Zoe Mitchell. If the Smoke Free Workplaces Act of 2003 passes, the already existing choice between smoking and completely nonsmoking venues will dry up.
KY: Attorneys for the city and the health department want to move the lawsuit challenging Lexington's public smoking ban to the Kentucky Supreme Court. Whether the court grants the motion, the suit is likely to surface there eventually: The Lexington-Fayette County Food and Beverage Association has promised to fight all the way up the ranks in order to defeat the ban.
KY: Kentucky Rights: A public yahoo group for anyone who wants to talk about the Kentucky ban situation!
MS: Jackson City Council moved to exempt restaurants and attached bars from the smoking ban ordinance, the debate continues. There is no question that the negative financial impact of smoking bans is real.
NE: Lincoln lightens smoking proposal. By Joe Dejka. Feeling the heat from bar and restaurant operators, the Lincoln City Council on Monday watered down its proposed ban on smoking in public places. Smokers would be allowed to puff away at bars, restaurants and workplaces - but only in separate, sealed smoking rooms that protected the public and employees from secondhand smoke.
NY: NY considers women's restroom rights Banzhaf, who has filed several court complaints, wrote recently that these legal cases show that women are standing up for their rights "even if they can't stand up while exercising those rights."
NY: State probes Brigadiers bingo. The only Onondaga County business to receive a smoking ban waiver under the criteria of showing at least a 15% loss of business and now they're being investigated and threatened with closure.
WA: Pierce County Passes Smoking Ban. Opponents, including the Restaurant Association, say the county lacks authority to impose a ban. They say it's better to allow restaurants to decide on their own whether to ban smoking. The association is threatening to sue.
Canada: Edmonton: National health institute to be created. Canadian health-care officials say medical errors could be responsible for as many as 10,000 deaths a year.
Canada: Tobacco Taxes: $8 Billion for Governments, 70% of Consumer Retail Prices. Retailers who sell tobacco products across Canada are displaying "tax wheel" stickers showing that taxes account for about 70% of the retail price of cigarettes. It punishes low-income smokers."
USA: The Vietnam Veterans Memorial Wall and Veterans in general, do not meet the donation criteria at Target. They will also not allow the Marines to collect for "Toys For Tots" during the holidays at their store locations.

---
Please Donate:
Please send a check or money order to these fine people fighting for your rights.