CONTENTS

1. Formula One
2. WHOOPI: MIKE CAN'T SNUFF MY ON-SCREEN CIGS
3. Don't Sniff at This Snuff, It's Spitless!
4. Global Tobacco Treaty Will Curb Freedom, Not Smoking
5. Holiday Relaxing But Not Slimming
6. Secondhand Politics
7. Cig Co. Targets Celeb Smokers
8. We Are Everyday People
9. From The Mailbag


I don't know the key to success, but the key to failure is trying to please everybody.
Bill Cosby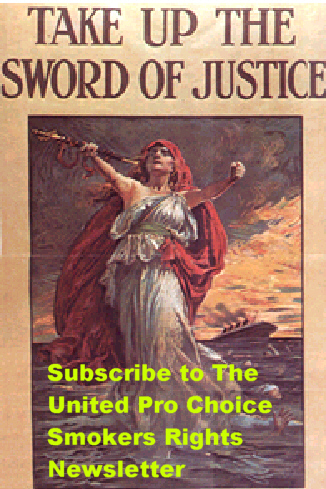 Select Your State For More Information:
AL | AK | AR | AZ | CA | CO | CT | DE | FL | GA | HI | ID | IL | IN | IA | KS | KY | LA | ME | MD | MA | MI | MN | MS | MO | MT | NE | NV | NH | NJ | NM | NY | NC | ND | OH | OK | OR | PA | RI | SC | SD | TN | TX | UT | VT | VA | WA | WV | WI | WY
-------------
Tobacco News From Canada
-------------
Please send your news items to: info@smokersclub.com
-------------
Read this newsletter on a web page
-------------
Index of Articles
-------------
Clove cigarettes, FREE International delivery!
-------------
Cigarettes, USA delivery,
No tax or reporting.
-------------
The BEST ashtray ever.
Get one for your car as well!
-------------
Get your cigar quotes here, support the newsletter.
-------------
Please help support our troops overseas.
Send your well wishes.




Click here for information on cigar deliveries to be sent in your name.
Each package you send includes cigars, cutter, humidification stick, and postage.
-------------
Read
Joe Bob Briggs
Joe Bommarito
Joe Dawson
Kerry Diotte
Cat Farmer
Wanda Hamilton
Dave Hitt
Norman Kjono
Warren Klass
James Leavey
Pierre Lemieux
Enoch Ludlow
John Luik
Rosalind Marimont
Michael McFadden
Steven Milloy
Martha Perske
Jacob Sullum
Walter Williams
-------------


-------------
Register on MySmokersRights.com and you'll have access to your own personalized page, with contact information for your state and federal representatives. And RJR will keep you informed of issues affecting smokers in your area by way of e-mail.
-------------

Comedy
© Copyright 2003. All rights reserved.
Formula One Administration Citing Canada's antitobacco laws, has decided that Montreal's Canadian Grand Prix will be axed from next summer's racing calendar. The decision will be a devastating blow to Montreal's economy. With its prestige and its loyal, upscale international fans, F1 auto racing brings an estimated $50-million to $80-million in tourism revenues to Montreal each summer.
Tobacco laws cancel Montreal Grand Prix. Montreal business owners say losing the Grand Prix is a disaster for tourism.
M. Maurice Gingues, Senior Policy Advisor for the Canadian Council for Tobacco Control (CCTC), is available to answer media questions regarding the cancellation of the 2004 Canadian Grand Prix.
Pranksters fool F1 boss. A pair of radio station pranksters got through to Formula One boss Bernie Ecclestone Monday posing as Prime Minister Jean Chrétien.
Ecclestone under fire after axing Montreal. "This is tantamount to extortion," Garfield Mahood.
---
WHOOPI: MIKE CAN'T SNUFF MY ON-SCREEN CIGS:
The comedy star, filming a new sitcom at Kaufman Studios in Queens, told the mayor yesterday her character will be puffing away during the show - and she's ready to pay the price under the city's tough new no-smoking law.
---
Don't Sniff at This Snuff, It's Spitless!
By Robb M. Stewart. U.S. Smokeless Tobacco is trying out the discretion theme as well. Spokesman Mike Bazinet says the company began limited test marketing last year of a new brand of packaged snuff, Revel, that like Swedish snus is meant to go anywhere in the mouth. The company plans to expand the test marketing during the fourth quarter. "We've had a very positive response ... it's appealing to a lot of people, including women because of the no-spit characteristic," Mr. Bazinet says.
---
Global Tobacco Treaty Will Curb Freedom, Not Smoking:
By Pete Camp. This treaty proves that politicians and bureaucrats are hopelessly addicted to running other people's lives, no matter which nation they're from. While this document will further empower the international nanny state, in all likelihood it won't deter people from smoking.
---
Holiday Relaxing But Not Slimming:
By Eric Boyd. Claiming the cancer risk of being overweight is just as bad as the risk associated with tobacco, the American Cancer Society kicked off its new war with the Great American Weigh In. That should sound vaguely familiar. It's modelled after the 30-year-old Great American Smokeout.
How Much Can You Eat and Still Lose Weight? By Bev Bennett. "Don't rely on calorie tables," she says. "You need to get specific. You need to do the work to determine how many calories you need."
Special diet as good as drugs for high cholesterol. A low fat diet that is high in fiber, nuts, and vegetable proteins may be just as good as certain drugs at lowering high cholesterol levels, new research suggests.
Dietary Demons By Dr. Elizabeth M. Whelan. When the FDA announced its ruling last month requiring food labels to specify the amount of trans fatty acids (TFAs) present in products, media coverage was prodigious, completely one-sided, and lacking in any scientific perspective.
---
Secondhand Politics:
By Cat Farmer. There's something supremely unhealthy about lust for power. It's not a natural urge for most people; more like an acquired vice.
Laws Create Criminals:
Laws are written by the powerful, for the powerful; therefore, voting for lawmakers is like deciding which wolf may eat you for supper.
Scientists Beware:
By Bruce L. Benson. Many of us care a lot about what politicians are doing; we just don't trust any of them.
---
Cig Co. Targets Celeb Smokers:
A tobacco company is offering a free lifetime supply of cigarettes to celebrity smokers as part of a guerrilla marketing campaign to raise the public profile of its recently launched brand.
---
We Are Everyday People:
A reader writes: We should all write "IN GOD WE 'TRUST" on the back of all our mail. After all, that is our national motto, and it's on all the money we use to buy those stamps. We must take back our nation from all the people who think that anything that offends them should be removed. If you like this idea, please pass it on and DO IT. It has been reported that 86% of Americans believe in God. Therefore, I have a very hard time understanding why there is such a mess about having "In God We Trust" on our money and having God in the pledge of Allegiance. Could it be that we just need to take action and tell the 14% to sit down and shut up?
Ignore your rights, and they will go away.
---
From The Mailbag:
CA: Tom McClintock for Governor. Tough enough to fix California.
MO: Springfield Mayor Tom Carlson believes some city restaurants may go out of business if a new smoking ordinance isn't changed.
NY: OPERATION: MONTECRISTO: "The Smoking Lamp is Lit" September 17th, Aboard the USS Intrepid, 46th Street and 12th Avenue, NYC. You're not gonna want to miss this event... We hope to see you there! Email or call 888-442-8262 or 212-997-2227.
NY: 30 complaints a week greet smoking ban. By Rick Miller. Ellicottville. "Some establishments are blatantly refusing" to enforce the smoking ban, she said.
NY: New York Post asks: Has your bar or restaurant been fined or warned for having patrons smoke? Give The Post a call at 212 930-8500 and tell us your story.
NY: Batavia. Restaurant owners opposed to the state's new smoking ban not only allowed their customers to light up -- they provided the cigarettes free of charge.
NY: The Conservative Party of New York State. Memo. In Support of Repealing the Statewide Smoking Ban.
OH: Council Votes To Allow Ban To Go Up In Smoke. You can still light up in Garfield Heights. City council members decided to just say no to banning smoking in indoor public places like sports facilities and workplaces.
TX: San Antonio snuffs out indoor smoking. Outdoor diners on the River Walk still can smoke under a revised city ordinance approved last week. But starting in 2004, once they step inside a San Antonio restaurant or bar, patrons will face a slew of new smoking controls that were criticized as too onerous by business owners and too weak by health advocates.
Canada: PUBCO Third Annual Golf Tournament. 9/22/03 1:00 Pineview Golf Course, Ottawa Canada
Germany: The government wants to introduce tough American-style anti-smoking laws after years of "smoke wherever you want'' policies in bars and restaurants.
Ireland: Irish smoking ban row. The main trade union for Irish bar workers clashed tonight with a campaign to force a Dublin government climbdown over plans to outlaw smoking in the workplace from the start of next year.
NZ: RSA says no go to smoking ban. By Alison Fraser. Returned servicemen who meet up for a drink and a smoke could be forced to find somewhere else to socialise if a smoking ban gets approval. Publicans and people who go to bars and clubs don't want to be denied their choices. Would enough punters go to a smoke free pub to make it viable?
Philippines: Manilans oppose smoke ban The majority of Metro Manila residents are opposed to the Makati City ordinance prohibiting smoking in enclosed public and private places, an on-line survey conducted via the Makati City Hall's own website revealed.
Scotland: 'Cold Turkey' Smoking Ban Unrealistic, Says Ex-Minister. By Louisa Nesbitt. The former junior agriculture minister said that even non-smokers were shocked at the severity of the ban. Last month a group representing hotels, guest houses, restaurants and pubs in Ireland announced that it was beginning a campaign to overturn the ban. They warned that there would be severe consequences for the Republic's economy.
USA: Which states have smoke free air?

---

Here's a Joe Cherner fun fact: Did you know that after the terrorist attacks of 9/11 Joe ran away to France where he still resides to this day. That's right, the man who is telling all New Yorkers how to live their lives didn't even have the balls to stick around after 9/11. He feels safer living amongst our good friends the French. Yet he feels perfectly justified sending out emails about how great you are all doing.
Like NBC says, The More You Know.
-- Harold

Smoking In France: One Place Where Lighting Up Is Still Acceptible. As New York City and Boston join the many cities and states in the U.S. to adopt anti-smoking bans, there is one vacation spot where smokers are not treated like lepers: France. Yes, President Chirac has vowed to wage war on smoking. But it will take some time for the same anti-smoking frenzy that has gripped the U.S. to take hold on this smoker's paradise, if ever.

---