Shocker: 'Villain' Nicotine Slays TB:
The compound stopped the growth of tuberculosis in laboratory tests, even when used in small quantities, said Saleh Naser, an associate professor of microbiology and molecular biology at UCF.
Cigs Off Beach?:
"This is an anti-smoking bill masquerading as a litter bill," Audrey Silk, founder of New York City Citizens Lobbying Against Smoker Harassment, told The Associated Press.
Last of the Defiant Heroes:
They are enraged that smokers have refused to buckle to their will and they plan to bludgeon them with the law. But stubbornness has always been mankind's best defence against tyranny.
Ventilation Solution Given Thumbs Up:
Toronto City Council is being asked to accept an air ventilation solution as a compliance alternative solution to designated smoking rooms...
Government Urged To Stop 'Invisible' Marketing Of Cigarettes:
The Labour MP will lead the all-party committee's scrutiny of the government's Tobacco Advertising & Promotion bill in the Commons next week.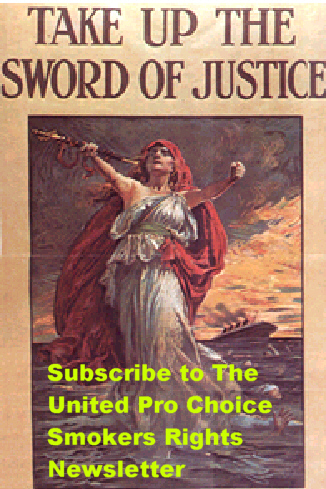 Voters for Fairness and Freedom

We Are Everyday People:

ATTENTION SHOPPERS:
If your supermarket is asking you to "sign up" for a "frequent shopper card" -- just say -- NO.
CASPIAN:
Is Big Brother in your grocery cart?

The Freedom Network:
Commentary, Opinion, and Book Reviews

Manish-Sheth:
Tobacco Industry List with Contacts

Clinton Hit By Egg In Poland:
Former President Clinton was jeered by anti-globalization protesters and hit by an egg...

From The Mailbag:

SMOKE BAN STALLED FOR 60-DAY REVIEW
Don't hold your breath waiting for Winnipeg to rid its public places of tobacco smoke.


----------


The campaign of Dennis Saffran, the Republican candidate for NY City Council from Northeast Queens, is seeking an operational manager. E-mail (preferred) or fax cover letter & resume to Saffran2001@aol.com or 718-428-7156.

----------


Court Dismisses Tobacco Fraud Lawsuits: 5/22/01 (Reuters) - A U.S. appeals court gave the tobacco industry a pair of victories on Tuesday, dismissing separate lawsuits by foreign governments and by several union health funds alleging fraud and racketeering violations and seeking to recover smoking-related health care-costs. The unanimous three-judge appellate panel said in a opinion written by Judge Judith Rogers that the claims were ``too remote, contingent, derivative and indirect'' to survive.