CONTENTS

1. My Cat Supports Terrorism
2. GENEVA
3. Philip Morris Coming Back?
4. No Arguing With Extremists
5. Justice Talking
6. Small Business Survival Committee
7. The Anti's 10 Do's For Getting Legislation Passed
8. We Are Everyday People
9. From The Mailbag


"The problem now is that with modern technology, things can happen faster than people can react. I'm sure, for instance, that if anti-smokers really understood the consequences of their efforts to ban smoking, they would react like right minded non-smokers do by opposing the ban. They don't seem to understand that they will suffer in the end just like smokers will."
Sam Nettles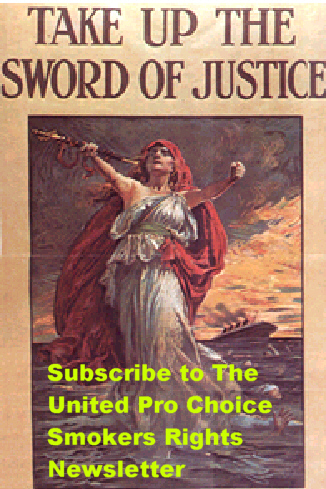 Select Your State For More Information:
AL | AK | AR | AZ | CA | CO | CT | DE | FL | GA | HI | ID | IL | IN | IA | KS | KY | LA | ME | MD | MA | MI | MN | MS | MO | MT | NE | NV | NH | NJ | NM | NY | NC | ND | OH | OK | OR | PA | RI | SC | SD | TN | TX | UT | VT | VA | WA | WV | WI | WY
-------------
Tobacco News From Canada
-------------
Please send your news items to: info@smokersclub.com
-------------
Read this newsletter on a web page
-------------
Index of Articles
-------------
Clove cigarettes, FREE International delivery!
-------------
Cigarettes, USA delivery,
No tax or reporting.
-------------
The BEST ashtray ever.
Get one for your car as well!
-------------
Get your cigar quotes here, support the newsletter.
-------------
Info on advertising on smoker's sites.
-------------
Read
Kerry Diotte
James Leavey
Dave Hitt
Warren Klass
Michael McFadden
Norman Kjono
Enoch Ludlow
Rosalind Marimont
Steven Milloy
Wanda Hamilton
Martha Perske
John Luik
Jacob Sullum
-------------
Register on MySmokersRights.com and you'll have access to your own personalized page, with contact information for your state and federal representatives. And RJR will keep you informed of issues affecting smokers in your area by way of e-mail.
-------------

Comedy
© Copyright 2003. All rights reserved.
My Cat Supports Terrorism:
By Joe Bommarito. The main ingredient? Petroleum.
---
GENEVA: United States and Germany, two of 171 countries attending the talks, said they could not accept parts of the deal, although they cannot stop it being endorsed by WHO's annual assembly in May.
Setback for anti-smoking treaty.
Negotiations to reach agreement on a worldwide anti-smoking treaty are approaching their deadline, with little sign of agreement.
US May Send Tobacco Pact Up In Smoke:
"We didn't expect the United States to ratify anyway. They haven't ratified treaties like this for years. Their presence here is academic" Clive Bates, director of ASH UK
Anti-tobacco Treaty Agreed:
By Imogen Foulkes. Here, the treaty has been watered down somewhat. The final wording says countries should impose an advertising ban, but in accordance with their constitutional principles.
---
Philip Morris Coming Back?
By John Reid Blackwell. Philip Morris USA may relocate its headquarters from New York City to Richmond, a move that could bring hundreds of employees to the area.
---
No Arguing With Extremists:
By Kerry Diotte. Canada: Edmonton. That bylaw will be before council's community services committee in about two weeks - March 17.
---
Justice Talking:
Smart talk about law, justice, and American values. Smoking Bans. Join the discussion on this topic.
---
Small Business Survival Committee:
By Darrell McKigney. New SBSC study shows NYC tobacco tax hike kills jobs, hurts businesses, reduces revenue, and has little impact on smoking.
---
The Anti's 10 Do's For Getting Legislation Passed
---
We Are Everyday People:
Stop All Charitable Donations:
By Donald Ginsberg. The government does not want to support all these charity groups.
A Class Divided:
In this Web-exclusive interview, Jane Elliott discusses her abiding sense that her lesson in bigotry is as necessary today as it was in 1968.
Home Movie Memories:
Turn your old 8mm home movie films to VHS and DVD
Dust Mites:
Pet Allergens, Roaches and more.
Smoking Bans Cancer On Careers Of Nonsmokers:
By Joe Donatelli. In your well-intentioned crusade to save us from the 48.7 million Americans who smoke, these laws are certain to have negative secondhand effects.
Save the Pledge of Allegiance and our National Motto. Sign the petition supporting a Constitutional Amendment.
---
From The Mailbag:
AL: Montgomery smoking ban abandoned, for now. First they adopted a smoking ban, then they wanted to change it, now the Montgomery City Council has abandoned it. The city council voted unanimously go along with Mayor Bobby Bright's veto of the compromise ban that passed two weeks ago.
AL: Prattville may ease smoking ordinance… now pitching a watered-down version of the measure in an effort to "get something on the books."
CT: Lawmakers got a whiff of the burning controversy ahead as they contemplate further restrictions to public smoking. But this is not the across-the-board ban envisioned by some and points up the difficulties of creating such a ban, as many businesses would push to be exempt.
FL: Miami. Third District Court of Appeal affirmed the dismissal of a lawsuit on behalf of a Peruvian smoker, ruling that Florida was not the proper forum for such a suit.
ID: Committee kills bill to tax tribal cigarette sales
MO: Springfield. Proposed restaurant smoking ban goes to full city council. Bars would be exempt from the ban.
And: Mayor Tom Carlson predicts bill will get many amendments before a final City Council vote.
And: The bill will come up for public hearing and first reading at the City Council's March 24 meeting at 7:00 p.m. in Council Chambers of Historic City Hall.
MT: Helena. Panel OKs re-vote on tobacco law.
NE: Thompson says bar-smoking ban is all or nothing.
NE: Lincoln. A smoking ban in Nebraska restaurants narrowly advanced Friday out of a legislative committee. It is doubtful, however, that the proposal will come up for a vote this year on the floor of the Nebraska Legislature.
NM: The Albuquerque City Council has upheld Mayor Martin Chavez's veto of a smoking ban. But the proposed ban isn't dead. City councilors and Chavez say they will work to find a compromise on the issue.
OH: Toledo. Mr. Escobar said the task force will discuss government's role in protecting the public from the effects of second-hand smoke, the economic impact of a smoking ban, and laws that have been adopted in other cities. He said an ordinance could be ready for a vote of council by late May. The next meeting is set for 4 p.m. March 6 in city council chambers in Government Center.
TX: Dallas. A last-ditch effort to get the Dallas smoking ban stopped has failed, but some restaurant owners and others still hope the ordinance will be overturned.
WA: A proposed ban on smoking in public places made its debut in the House Health Care Committee Thursday. House Bill 1868 has sparked controversy among some restaurant owners who say the ban would deter customers who smoke from frequenting their establishments.
WY: A 48-cents-per-pack increase on cigarettes.
Canada: The Ontario government should take immediate steps to ban smoking in all public places and workplaces, says the Ontario Medical Association.
UK: Forest A haven for smokers and non-smokers who believe in freedom of choice.

---