CONTENTS

1. End The Smoking Apartheid
2. Smoker's Children Get $2.7 Million
3. Let's Clear The Smoke Clouding Smoking
4. JUDGE RULES LORILLARD CAN SUE ANTI-SMOKING GROUP
5. Defective Arguments
6. Snack Food Cancer Risk Debunked
7. Bans Killing Your Business
8. We Are Everyday People
9. From The Mailbag


"It has been said that man is a rational animal. All my life I have been searching for evidence which could support this."
Bertrand Russell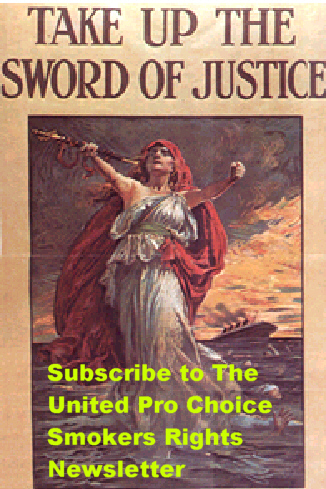 Select Your State For More Information:
AL | AK | AR | AZ | CA | CO | CT | DE | FL | Ga | HI | ID | IL | IN | IA | KS | KY | LA | ME | MD | MA | MI | MN | MS | MO | MT | NE | NV | NH | NJ | NM | NY | NC | ND | OH | OK | OR | PA | RI | SC | SD | TN | TX | UT | VT | VA | WA | WV | WI | WY
-------------
Tobacco News From Canada
-------------
Please send your news items to: info@smokersclub.com
-------------
Read this newsletter on a web page
-------------
Index of Articles
-------------
Clove cigarettes, FREE International delivery!
-------------
Cigarettes, USA delivery,
No tax or reporting.
-------------
The BEST ashtray ever.
Get one for your car as well!
-------------
Get your cigar quotes here, support the newsletter.
-------------
Info on advertising on smoker's sites.
-------------
Read
Kerry Diotte
James Leavey
Dave Hitt
Warren Klass
Michael McFadden
Norman Kjono
Enoch Ludlow
Rosalind Marimont
Wanda Hamilton
Martha Perske
John Luik
Jacob Sullum
-------------
Register on MySmokersRights.com and you'll have access to your own personalized page, with contact information for your state and federal representatives. And RJR will keep you informed of issues affecting smokers in your area by way of e-mail.
-------------

Comedy
© Copyright 2003. All rights reserved.
End The Smoking Apartheid:
By Pierre Lemieux. One of the main axes of the anti-smoking crusaders is the prohibition of smoking in private businesses open to the public, conveniently labelled "public places."
Research Paper Up In Smoke?:
The problem is that the Cunningham paper does not exist, or at least cannot be found. Moreover, repeated attempts to obtain a copy from the author have been unsuccessful.
---
Smoker's Children Get $2.7 Million:
By Jim McKinnon. She was hit by truck after cigarette break
---
Let's Clear The Smoke Clouding Smoking:
By Chip Martin. They say Adolf Hitler was the first to launch a health-based crusade against smoking in public places. Got your attention?
---
JUDGE RULES LORILLARD CAN SUE ANTI-SMOKING GROUP:
By Ira Teinowitz. Tobacco Giant Alleges It Was Vilified in Advertising Campaign. A Delaware court ruled that Lorillard Tobacco Co. can move ahead with its suit of the American Legacy Foundation and its anti-tobacco "Truth" campaign.
---
Defective Arguments:
By Jacob Sullum. Hope for sanity in product liability.
Cities Pay Big in Faulty Lawsuits:
People who get injured while committing a crime, or while failing to commit suicide, and then sue their cities for damages are reaping financial benefits at the public's expense.
---
Snack Food Cancer Risk Debunked:
By Jennifer Warner. Acrylamide Doesn't Raise Cancer Risk
Fatty, fried food not as carcinogenic?:
Results of earlier animal studies may not apply to humans
Kids' Crusade Against Fat:
By Heidi Evans. Surge in childhood obesity stirs action in clinics, courts.
---
Bans Killing Your Business:
CO: Pueblo. Citizens gather to fight smoking ban in bars
FL: Hurricane Harry's in North Fort Myers. Eight people called to say they were happy about the ban and 22 called to say they were headed elsewhere. "We lasted four hours," he said. "I physically watched eight customers get up and walk out the door." Then some staff members threatened to quit.
GA: The city of Atlanta is considering relighting the issue of a citywide ban on smoking in restaurants, an idea that has local restaurants fuming.
KS: Salina. Letters threaten writers. "Remember, I'm watching your ...," the letter-writer wrote. (More Smoking.)
MA: Tom Gianfrancesco, Tom's Tavern is worried. So to avoid losing business to competitors, he is challenging a new Wrentham regulation that bans smoking in restaurants by maintaining a smoking area.
MD: Froggy's Bar & Grille. And as going-out patterns continue to shift, the owners of those establishments wonder if they'll end up being left out in the cold, too.
MD: Racks Bar & Billiards. About 30 people are scattered through Racks Bar & Billiards at 10 Saturday night. At about 10:30, Racks General Manager Jim Wilson turns off the lights and shuts the doors to the back part of the building where music was playing. No one was dancing.
MD: Extreme Nite Club. "I think it's whack," Hampton said. "You need to tell Ruth Ann Minner, she needs to let this be up to the owner of the establishment."
MD: Just Mugs Saloon. "If this law doesn't get reversed in the next three months, I will be out of business," said Liz Moorhead, owner of Just Mugs Saloon in Bear.
MD: Dugout Tavern. Our business is down by 50 percent and we have not seen any non-smokers coming in to take the place of the customers we have lost. Like other bar owners, we have financial obligations and a responsibility to our employees to guarantee them a living. We will not be able to do that much longer. Don't we have a right as taxpayers to make an honest living?
MD: ANNAPOLIS -- Del. Barbara A. Frush is at it again with her annual proposal to prohibit smoking at all bars and restaurants in Maryland.
MD: Delaware United Smokers Association
MD:With taxes at $1.50 per pack in New Jersey and $1 in Pennsylvania and Maryland since July, more out-of-staters are making their way to Delaware to buy cheaper butts. The result is that Delaware expects $35 million in cigarette tax revenue this fiscal year, a 25 percent increase over last year.
MT: "If we had an ordinance like Helena has, I would be out of business," said Bob Pavlovich of the Met Tavern in Butte, where an ordinance is under consideration.
NE: Waterloo. Nebraska eateries want customers to decide smoking policy
SD: PIERRE, A legislative committee refused to close a loophole in the state law that generally limits smoking to businesses that serve alcohol.
SD: Senate Anti-Smoking Legislation Deserved To Be Snuffed Out If you don't want to be around smoke, don't visit smoking establishments. It's that simple.
TX: Austin. Smokers beware. If you think you're limited in where you can eat and smoke now…
TX: Dallas. Cigar Aficionado is exploring location options for the Dallas Big Smoke.
Canada: Smoking leads to restaurant closure. A Vancouver restaurant has been shut down for five days for breaking the city's anti-smoking bylaw.
Canada: Smoke ban blamed for demise of eatery. Owner says bylaw divided clientele, employees without pay since November.
Canada: Kenora. Eight businesses have been given a temporary green light to allow smoking in their buildings this week even after the Northwestern Health Unit ordered them to stop.
Ireland: Dublin. The Minister for Health has said he intends to introduce a ban on smoking in pubs, restaurants, and hotels on 1 January 2004. The Irish Government is expecting a massive backlash from its plans to ban smoking in all pubs and restaurants.
Spain: Madrid. Smokers in tobacco-crazy Spain fumed Monday over a new law that will raise cigarette taxes and phase out smoking in the workplace.
---
We Are Everyday People:
Please Help Support Our Troops Overseas:
They will share with others in need of a "little bit of home" right now.
There Ought Not to Be a Law:
By Wendy McElroy. One danger of arguing for or against a position is that everyone thinks you are saying, "there ought to be a law."
Write the Joint Chief of Staff:
and ask them to stop harassing smokers in the military.........
Comedy Smoking Article:
BBspot is a satirical news and comedy source and meant to be funny. If you are easily offended, gullible, or don't have a sense of humor we suggest you go elsewhere.
FAA Poster: (Comedy)

---
From The Mailbag:
As the old saying has it, if you torture the data long enough, it will confess to anything:
... We hear "A smoker dies every 13 seconds."
Fact: A person dies every 1.7 seconds. Since 25% or so of the world's population smokes, the smoker's odds are better than average.
... We hear "1200 smokers are killed by tobacco every day in the US."
Fact: 6575 people are "killed" by something every day in the US. If 25% of them were smokers as in the general population, you'd expect that 1643 smokers would die every day. We're 443 short.
... We hear: 400,000 smokers die (prematurely) every year--actually they say, "Tobacco kills 400,00 people every year." We know and can prove that 70,000 of them are far over the accepted life expectancy, so that leaves 330.000.
Fact: In the US, 2-1/2 million people die every year. Subtract that 330,000 smokers and you still have more than 2 million.


---