CONTENTS

1. Beatles Abbey Road Cigarette Airbrushed
2. Lawyers Run Marathons, Not Sprints
3. Hatch Targets Anti-tobacco Funds
4. Drunken Logic
5. Commissar Laura Miller and the Dallas City Cabal
6. Smoking And Liberty
7. We Are The World
8. We Are Everyday People
9. From The Mailbag


"Giving up smoking is the easiest thing in the world. I know because I've done it thousands of times."
Mark Twain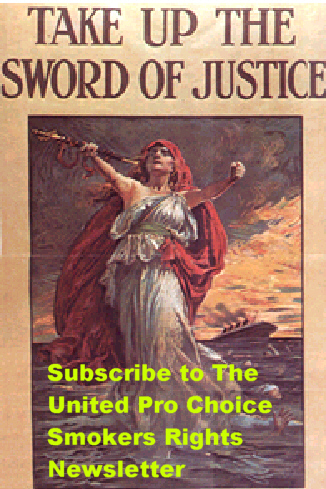 Select Your State For More Information:
AL | AK | AR | AZ | CA | CO | CT | DE | FL | Ga | HI | ID | IL | IN | IA | KS | KY | LA | ME | MD | MA | MI | MN | MS | MO | MT | NE | NV | NH | NJ | NM | NY | NC | ND | OH | OK | OR | PA | RI | SC | SD | TN | TX | UT | VT | VA | WA | WV | WI | WY
-------------
Tobacco News From Canada
-------------
Please send your news items to: info@smokersclub.com
-------------
Read this newsletter on a web page
-------------
Index of Articles
-------------
Clove cigarettes, FREE International delivery!
-------------
Cigarettes, USA delivery,
No tax or reporting.
-------------
Get your cigar quotes here, support the newsletter.
-------------
The BEST ashtray ever.
Get one for your car as well!
-------------
Info on advertising on smoker's sites.
-------------

Comedy
© Copyright 2003. All rights reserved.
Beatles Abbey Road Cigarette Airbrushed:
United States poster companies have airbrushed the classic Beatles Abbey Road album cover to remove a cigarette from Paul McCartney's hand. The move was made without the permission of either McCartney or Apple Records, which owns the rights to the image.
Wicked Woman Warning:
By Charles Paul Freund. Old vices come back to haunt us. Obviously, the two major objects of modern therapeutic censorship involve guns and tobacco.
---
Lawyers Run Marathons, Not Sprints:
French-fry antagonist John Banzhaf appeared on CNNfn to announce that he's not going away quietly. "Actually, the suit wasn't thrown out," Banzhaf said, adding that "we have 30 days in which to amend the complaint. Almost certainly we will, and we'll be back before the same judge."
---
Hatch Targets Anti-tobacco Funds:
By Josephine Marcotty. Attorney General Mike Hatch asked a court again Thursday to strip an antitobacco group of its $202 million endowment, citing new allegations that it didn't prudently manage its money.
---
Drunken Logic:
A 1994 Journal of the American Medical Association (JAMA) editorial concluded that 80,000 deaths could be prevented every year by moderate drinking. The American Heart Association seconds JAMA's figure. That means over a million Americans might die needlessly early over the "decade or two more" that the Post wants for additional studies to simply reconfirm what we already know.
---
Commissar Laura Miller and the Dallas City Cabal:
By Bill Hocutt. At what point do we stand up and object to this growing government nannyhood?
---
Smoking And Liberty:
By Tom DeWeese. Efforts to ban smoking aren't just a virtuous attempt to protect our health and make things smell good, it is a terrifying usurpation of individual liberty and Constitutional rights.
---
We Are The World:
Emirates Airlines To Reintroduce Liquor And Tobacco:
...to its inflight programme on selected routes in the coming months.

Tokyo's Smokers Given Sanctuary:
A Japanese cigarette company has hit back against a smoking ban in parts of central Tokyo by parking a specially designed trailer on the street.

Germans Smoking More:
... despite sharply higher taxation.

Hospital Lets Pregnant Women Smoke:
Liverpool Women's Hospital is taking part in a trial of the American product NicoBloc. Its manufacturer claims the fluid, which is added to the cigarettes' filters, stops 99% of tar and nicotine in cigarettes reaching the bloodstream.

Austria Faces F1 Axe:
Other European races, including the San Marino Grand Prix, are under threat as F1 takes in venues that would not be subject to a ban on tobacco advertising.
---
We Are Everyday People:
Steven Milloy Writes!
Junk Science, Greens to Launch New Scare Campaign, Beyond Belief, Junk Science Oscars, and more.

Council Cares About Bingo But Not Bars:
By Kerry Diotte. Edmonton city council's hypocrisy on the smoking issue is truly sickening. Also: The time to oppose smoking bylaw is now!

The Totalitarian Impulse:
By Karen DeCoster. (Queen of Political Incorrectness) In fact, nothing is more reckless than people appointing themselves to apply dictatorial rule over their fellow men. Not a day goes by where I don't receive another e-mail from the latest Hitler-of-the-day…

Smoking Booth Solution!
Clears the air between smokers and non-smokers.
---
From The Mailbag:
Everything old is new again: In colonial days they pulverized leaves and herbs by hand and provided much the same medicine that we have today. We used baking soda for indigestion, venison grease for a healing agent, whiskey for just about anything from coughs to convulsions, beer for vitamin B and relaxing food value, wine for stomach problems, and a laxative, tobacco for nervous tension, coffee for a stimulant, aspirin, of course.
Fight Cancer With Garlic and Onions. By Paul Recer. "This shows that your mother was right," said Stanford. "Eat more vegetables."
Duct Tape Therapy can also remove warts.
Study: Carbon Monoxide May Aid Arteries Tests on mice and rats indicate that the potentially deadly gas carbon monoxide -- inhaled at very low concentrations -- may help arteries damaged in angioplasty and transplants.
World Without Cancer: The Story of Vitamin B 17

AL: With three exceptions, smoking will be banned in all public places in Montgomery beginning May 1, 2003. "At least we've got 100 days to come up with another solution," said Johnny Sullivan, president of the Montgomery Restaurant Association.

DE: A bill seeking to roll back the state's ban on smoking in most indoor public places received a favorable committee assignment from House Speaker Terry R. Spence, a move that surprised many of its opponents.
DE: The (formerly) extremely popular restaurant at the slots at Dover Downs is no longer open during the day because the ban has hurt them so much.

IA: Supreme Court Will Review Ames Smoking Ban. It has led to a dispute between some restaurant owners and the central Iowa city. The owners said the ban violates Iowa law.

IN: Some city council members in Bloomington and Indianapolis are set to introduce proposals to ban smoking in bars and restaurants in those cities. We believe such proposals are silly and intrusive.

NE: Suggested smoking ban receives mixed reactions, if passed, would ban smoking from all restaurants throughout the state.
NE: Lincoln - State Sen. Nancy Thompson of Papillion is again taking on the restaurant industry with a bill to ban smoking in eateries.
NE: New rules for the state's Clean Indoor Air Act that apparently ban smoking areas in small convenience stores caught some business representatives by surprise this week.

NM: Cadigan's vetoed bill was a compromise proposal that the Albuquerque City Council passed Jan. 6. Cadigan had previously proposed a smoking ban in all public places. The compromise proposal was intended to ban smoking in restaurants but not stand-alone bars. Albuquerque mayor Martin Chavez, who vetoed the widely discussed smoking ban proposal, says he did so because the ban was too vague.
NM: It will now be up to city voters to decide whether to allow smoking in city bars, parks, private clubs and other areas of Las Cruces.

TX: Dallas. The ordinance, March 1, 2003, will ban smoking in restaurants, hotels, city-owned facilities, private clubs with eating establishments, bowling alleys, bingo parlors and bars that open into hotels and restaurants. Smoking will be allowed in designated areas of stand-alone bars, as well as in pool halls, outdoor patios and hotel rooms that are designated for smokers.



---